Like to sing? Do you play an instrument? Like to mix your own tracks? Have a band? Here's an opportunity to have your music featured in a comic! BlueStreak is a webcomic musical which combines music and comics to create the ultimate fun reading experience. Readers read to the music, and follow along with every "turn" of the page. Want to get involved? There's no fee, no catch…just send me an e-mail with your name and a link to your music. If the lyrics fit an upcoming scene, you can be the next featured artist! There are just a few things you might want to know before submitting your songs:
The song must contain lyrics.
The lyrics must not be over a PG-13 rating.  No R-rated tracks.
A capella tracks are not recommended, but might be considered if harmonies and/or beat boxing are used.
The songs must be 100% original. You may not take a melody that belongs to someone else and add your own lyrics to them.
You will be credited for your song, and your name and a link to your website (if you have one) will be posted in the comic.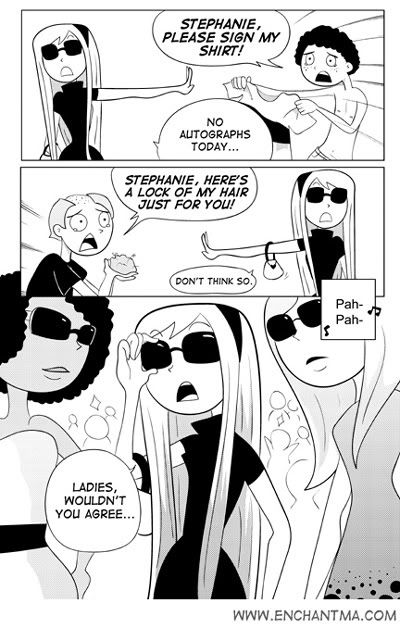 So what's in this for you? You can have the opportunity to have your songs publicized for free! Have people from around the world jam to your creations as my characters "sing" the songs. And what's in it for me? I'll have the chance to work directly with the music artists, and I'll be using music legally with your permission.
Want to create a song specifically for the comic? By all means! e-mail me telling me you'd like to do it with a link to your music portfolio, and I will contact you with details of a scene and the kind of lyrics I'm looking for. This is a great collaboration chance, so please contact me if you're interested!
My e-mail address is enchantma at gmail.com. I look forward to hearing from you! And please spread the word!
Read More